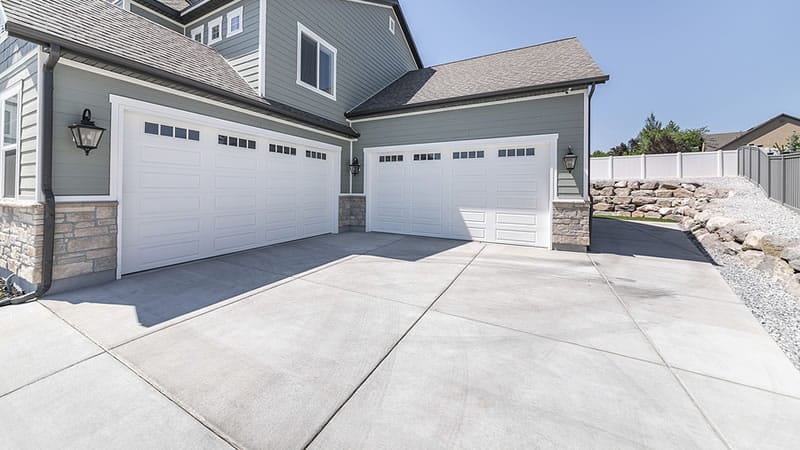 We Form and Pour Concrete Driveways and Walkways
Concrete is an excellent, durable, long-lasting, maintenance free construction material and perfectly suited for the construction of driveways, walkways, and sidewalks.  There are various types of concrete, different reinforcement methods, different finishes, and different thicknesses depending on your wants and needs.  Contacting an experienced, local, company that specializes in concrete driveways and flatwork is the first step to getting that new driveway.  Hiring a professional is key if you want your driveway to look good and last for many years.
Caballero's Lanscaping is a landscaping and hardscaping contractor based out of Indianapolis, Indiana and serving the surrounding areas.  We specialize in the construction of concrete driveways and concrete walkways.  From clearing the land, properly grading the area, building forms, pouring the concrete, and adding a broom finish we can build you a beautiful new driveway or walkway.  If you have an existing concrete driveway that is cracked, sunk, or needs to be replaced we also provide concrete driveway demolition and replacement services too.
We Specialize In:
Old concrete driveway demolition and replacement
New concrete driveway installations
Concrete sidewalk or walkway installations
Concrete parking pads
How Much Does A Concrete Driveway Cost?
Concrete driveways are generally billed out by the square foot.  The bigger the driveway the higher the cost.  There are other variables that can affect pricing too such as the need to clear land or remove old concrete, properly leveling and grading for drainage, forming the driveway, the thickness of the concrete, and the type of finish that you would like.  For a basic concrete driveway with a broom finish you're probably looking at $8 - $15 per square foot.  This is a wide range but without seeing your project and the potential scope of work it's very hard to give you an accurate price.
How Thick Should A Concrete Driveway Be?
A concrete driveway should be a minimum of 4 inches thick.  If your driveway will have to support heavy vehicles, large boats, large RV's or equipment then you will want to have thicker concrete.  Moving from a 4 inch thick driveway to a 5 inch thick driveway will increase the cost but the load carrying capacity is also greatly increased.  This is a good conversation to have with your contractor so they can listen to how your driveway will be used and determine what thickness will be best suited for your needs and situation.
Should Your Concrete Driveway Be Reinforced?
Reinforcement is common for concrete driveways, especially if they will be supporting heavy loads.  Typically steel rebar or a steel wire mesh is used as reinforcement.  Reinforcing the driveway won't entirely prevent cracks, but should they occur the driveway will still hold itself together.  Reinforcement can significantly add to the cost of your driveway so again, it's best to discuss your needs and options with your contractor.
Why Hire Caballero's Landscaping For Your Concrete Driveway?
When you choose Caballero's Landscaping for your concrete driveway installation or replacement you are partnering with a small, locally owned, business.  We are large enough to install concrete driveways and sidewalks of all sizes but we're still small enough to give your new driveway the specific care and attention it needs to be a durable and long-lasting improvement to your property.
We believe in great value along with excellent customer service to ensure complete customer satisfaction with every project we take on! We will conduct ourselves like true professionals on your property at all times, leaving no trace behind but your concrete work!
If you want to schedule an estimate for your concrete driveway construction project then please give us a call (317) 400-8766 or fill out our online contact form and we'll get back to you right away.